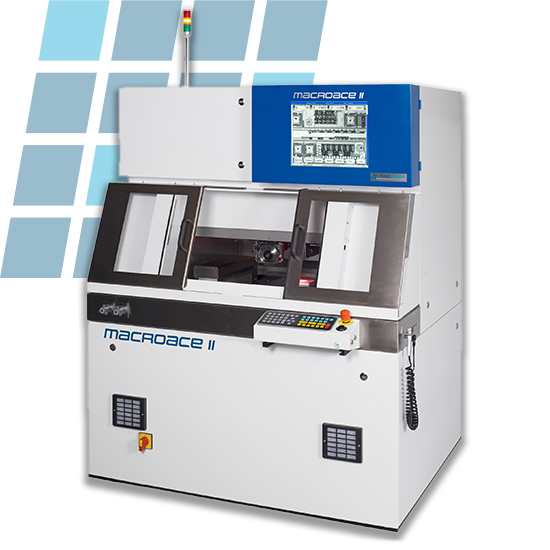 The MacroAce II
MacroAce II for heavier duty applications requiring high power spindle delivery and large work areas. The MacroAce II offers a unique combination of dicing machine performance with CNC-like power and work area capability.
The spindle's drive profile has been optimised to give maximum 4KW power delivery in the 1,000 – 10,000rpm range, exactly where it is required for heavier duty ceramic and metal cutting applications.
Additionally, cut depths of up to 55mm with cut lengths of up to 450mm help make the MacroAce II a best-in-class leader.
The MacroAce II is frequently the first-choice system for cutting bulk ceramics and lower frequency PZT sonar arrays.
The performance of the MacroAce II is underpinned by the Loadpoint NanoControl control system; a common control platform used across all machines.
NanoControl can be tailored to a customer's application. This could be taking the hassle out of calculating complex cut patterns or the easy generation of 3D cutting profiles.
Max. Work Capacity (X, Y, Z)

Rotational Capacity, 305mm x 305mm x 55mm

Blade Capacity

100mm - 200mm (*55mm cut depth with 200mm dia. blade)

Chuck-type

Ceramic or metal vacuum, mechanical vice, magnetic vice

Spindle Options

3kW, 1,000 – 10,000rpm

Dimensions (W x D x H)

1440mm x 1400mm x 2350mm (height includes traffic light)
Multi-purpose Dicing and Grinding System with 55mm Cut Depth
HEAVY DUTY CUTTING FROM A SMALL FOOTPRINT

DIVERSE WORKLOADS ARE EASILY HANDLED WITH EASY WORK-LOADING, QUICK TOOL CHANGES AND FAST PROGRAM ENTRY

HIGH POSITIONAL STABILITY, ACCURACY, CONTROL AND REPEATABILITY

TOTAL FLEXIBILITY, TOTAL CONTROL
MULTI-PURPOSE DICING AND SURFACE GRINDING SYSTEM WITH UP TO 55MM CUT DEPTH

ULTRA HIGH PRECISION CUTTING OF HARD MATERIALS

HIGH POWER SPINDLE ENABLING HIGH CUTTING SPEEDS

HIGHLY FLEXIBLE VISION ALIGNMENT AND USER INTERFACE (INCLUDING AUTOMATIC MODE)
OPERATIONAL SPECIFICATION
Control System
Loadpoint NanoControl 2.0
Work Holding
Ceramic or Metal Vacuum Chuck,
mechanical vice, magnetic chuck
Work Capacity (XYZ)
305 x 305 x 55mm
Blade Capacity (Diameter)
100 - 200mm
Spindle Power
3.0 KW @ 10,000 rpm
Spindle Speed
1,000 - 10,000 rpm
X Axis Cutting Range
500mm
X Axis Resolution
0.1 µm
X Axis Feed Rate
0.1- 300 mm/s
Y Axis Index Range
0.001 - 360 mm
Y Axis Resolution
0.1 µm
Y Axis Index Accuracy
± 3 µm / 300mm < ± 1µm / 10mm
Z Axis Index Range
0.001 - 200 mm
Z Axis Resolution
0.1µm
Z Axis Index Accuracy
< ± 2 µm / 10mm
Theta Axis Drive
Direct Drive Torque motor
Theta Axis Range
360°(continuous)
Theta Axis Resolution
4 arc sec
Camera Type
Monochromatic or full Colour
Camera Alignment
Manual or fully automatic
Camera Resolution
2 MegaPixels
Camera Magnification
x150 - x200 - x300
Camera Illumination
Coaxial and ring with dark field
Footprint (WDH) (height includes status light)
1400 x 1440 x 2350 mm
| | |
| --- | --- |
| Electricity | 415/440v AC three phase 16A, 50/60Hz |
| Air supply | 5.5 Bar (80 PSI) |
| | 0.17m³/min (6 CFM) |
| | Dewpoint 5°C, Oil 0.005 PPM |
| Water supply | |
| Blade coolant | 3 - 5 Bar (43 – 73 PSI) |
| | 5 - 8 Litres/min (1.3-2.1 US gal/min) |
| Workpiece wash | 3 - 5 Bar (43 – 73 PSI) |
| | 5 - 8 Litres/min (01.3-2.1 US gal/min) |
| Spindle coolant | 3 - 5 Bar (43 – 73 PSI) |
| | 18 - 20°C Recirculating Coolant Temp |
| | 1 Litres/min (0.26 US gal/min) |
| Vacuum supply | Not required, internally generate |
| Mist extraction | Mandatory 4m³/min |
| Drain | 42 mm ID drain, free flow to waste |
| | Drain height < 600 mm (24") from base of m/c |
| Recommended Environment | Ambient temp of 20˚C, humidity level < 40% |
| Weight | 3,000KG on 6 adjustable feet (up to 10mm) |
| Floor Level | < 6mm across m/c footprint |
| | |
| --- | --- |
| Port | Pipe Diameter |
| Cutting Wheel Blade Coolant In | 10mm |
| Wafer Wash Water In | 10mm |
| Spindle Coolant Water In | 10mm |
| Spindle Coolant Water Out | 10mm |
| Air In | 10mm |
| Vacuum Venturi Exhaust | 10mm |
| Mist Extraction Port | 100mm |
| Drain Port | 40mm |
Talk to us about your requirements
The MacroAce II is offered in a standard package, however, bespoke
packages are available with various options to suit a particular customer application.
Loadpoint Air Bearing Spindle
Very low vibration improves the cut quality and reduces chipping
DC brushless drive 4kW giving full power profile across the entire
speed range 1,000 to 10,000rpm
Theta (θ) axis bearing rotary table with high resolution direct drive
Vision and alignment system
Manual and automatic alignment modes:
Monocular video alignment system with pattern recognition
Automatic Pattern Recognition System (PRS)
2 point alignment with programmable off-set for off-cut alignment
Manual and automatic (option) kerf and chipping measurement on machine
Full 17inch monitor for alignment, data entry and machine monitoring
Continuous live display of X, Y, Z and theta co-ordinates
Z autofocus set up of alignment image, with offset option for depth of cut
Tooling
Standard wheel carrier with 101.6 to 200mm diameter blade capacity
Main blade coolant jet adjustable to suit all blade diameters
Work holding manufactured bespoke for application
Accelerometer based Z datum set, off-chuck height sensing system
NanoControl
Windows operating system with user-friendly, spreadsheet style data entry screens
Password-controlled user access to all key machine functions and a 12 month rolling log of machine actions provide full process traceability
Fitted with remote link to enable fast remote diagnostic access
Work holding
There is flexibility in the work-holding options to suit any customer requirements. These include; a standard ceramic vacuum chuck or metal chuck, mechanical vice or magnetic chucks. A bespoke work-holding option can be developed alongside customers to suit their specific requirements.
Z height sensing
Off-chuck height sensing system ensures constant depth of cut without having to use conductive blades, providing a wider choice of blade diameters and suppliers